We see the "lucky number seven" in many aspects of our lives – the number of days in a week, the colours of the rainbow, the jersey number of the Toronto Raptors' beloved Kyle Lowry, or the members of the South Korean boyband BTS. Yet, a company only gets to celebrate its seventh anniversary once, and last month, we celebrated ours!
Over the past seven years, we've grown as a company, as individuals, and most importantly, as a team. ThinkData has definitely seen the lucky number seven many times this year, so here are 7 key milestones we achieved in our seventh year as a company:
1. Won 'Data Monitoring Solution of the Year' at the Data Breakthrough Awards 2021

In 2021, we were selected as the 'Data Monitoring Solution of the Year'. This is our second consecutive year winning at the Data Breakthrough Awards, having won 'Overall Data Science Platform' in 2020. Data monitoring continues to be a critical component in responsible data governance, so being recognized for boosting transparency throughout the data lifecycle is a big win for us!

2. Named One Of Canada's Most Admired Corporate Cultures 2020 by Waterstone Human Capital
Cultivating a strong culture has always been one of our top priorities. We believe strongly in fostering an environment where empathy, inclusivity, and transparency are at the heart of everything we do. This creates a high-performance culture: one that is committed to the growth of our team members. We are so thrilled to be recognized as one of the 'Most Admired Corporate Cultures in Canada' by Waterstone Human Capital, the nation's leading cultural talent management firm.

3. Ranked 95th in Canada's Top Growing Companies 2020 by The Globe & Mail
To celebrate entrepreneurial achievement in Canada, The Globe and Mail amplified the success of the top 400 innovative and adaptive independent businesses in their Report on Business October issue. ThinkData placed 95th on this list! The 400 businesses in the editorial include various sectors, from fashion to finance, and medical testing devices to organic pasta.
4. New ThinkData Humans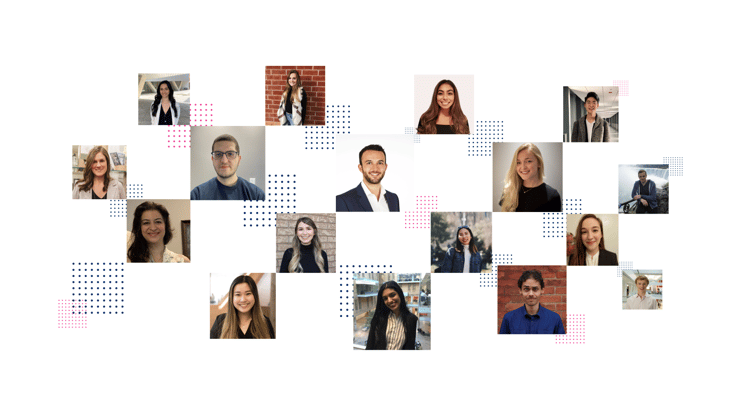 We've onboarded over 20 new ThinkData Humans over the course of our seventh year! Each semester, we welcome a new cohort of co-op students. Our interns are treated like full-time employees and take ownership over their work. Cross-functional collaboration has always been key to our success, with good ideas coming from everyone in the organization. In fact, many ideas developed by co-op students have become core pieces of our business and technology!
5. Hosted our first webinar

We've also seen a lot of 'firsts' in our seventh year. Our vision has always been to make data more accessible and valuable to everyone. So, we took this mission to the next step by hosting our first webinar: How Data Governance Unlocks the Value in Data featuring Robert Seiner (Principal Consultant at KIK Consulting) and Bryan Smith (ThinkData Co-founder and CEO). The two unpack the current state of data in the technology ecosystem and how a data catalog enables better data governance.
6. New partnerships with Soleadify, Safegraph, and Placekey

Soleadify is one of our latest partners. They're shedding light on one of the largest and most overlooked segments of business data: small-to-medium business. For any company looking to enhance their view of businesses, improve their market research, or get deeper insights than what traditional business directory providers can offer, take advantage of the external and alternative data Soleadify brings to the table.

SafeGraph is the source of truth for data about a physical place. They have amassed over 7 million POIs in their database and provide ground-level insights into non-residential areas in Canada and the US. Learn more about building footprints, visitor intelligence and high traffic locations by tapping into their places data from over 5500 top brands.
Our partnership with Placekey allows users to focus on using data to draw deep connections in data by merging and correlating geospatial information from different sources. Use the common identifier of a Placekey to combine data from different sources on a descriptive, efficient, and powerful column of data. Get standardized address information to make data wrangling easier and take the manual work out of address clean-up.
7. ThinkData Glow Up
Did you notice a few changes in Namara recently? We're using your feedback to build a better, more flexible data catalog. The dataset toolbar, featured topics, activity tracking, and Tableau integrations are just some of our newest features and capabilities to help you use better data and use data better.
Interested in learning more? Book time with our data experts to see what possibilities you can unlock.



That's not all – our website also had a MAJOR revamp this year. You're already here, so take a look through and see the latest information on the technology and services we offer. We suggest starting with the ThinkData Platform.
So... what's up at ThinkData?
We've been working hard this year, and it shows! But, it's equally important to know when to take a break to recharge. Despite being physically distanced, we've kept our team tight-knit by transitioning our previously in-person activities (like meditation, yoga, and games nights) online.
While we've continued to joke in meetings, over coffee chats, and through slack messages (our roster of custom emojis is growing every day), we're excited to announce some new initiatives we've been running with this summer. Here's the scoop:
1. Summer Hours
We're unplugging this summer to recharge with extra-long weekends on holidays and half- day Fridays every week!
2. Pride
We've all played bingo before, but there's only so much fun to numbers being called out to fill up your card. To celebrate Pride at ThinkData Works, we sashayed away with Charlie Hides, who held an EXCLUSIVE interactive Drag Queen bingo party for us! Charlie is a drag performer that competed in the ninth season of RuPaul's Drag Race. With the event being online, we all laughed as Charlie brought individual members on screen for a chat (or to be teased). We danced, sang, and came together to celebrate Pride month.
3. Although remote work is great, our #squad is better
We're eager to get back together, but our attitudes about the role of the office have changed as we emerge from the pandemic. We're strategically planning to move into a brand new office (located in the heart of Kensington Market) that supports our organizational priorities.
The new office allows us to let all employees create their optimal at home/in office mix. When it is safe for us to return to the office, there will be ample room for those that want to work there every day, have in-person collaborations, or just to play a game of pool with a colleague! We are using this transitional time to figure out what works best for our employees and teams, and ensure our workspace can make it all happen.
4. Summer Retreat
Each year, ThinkData likes to head north for a summer retreat. Due to the pandemic, it was cancelled last year. But, our fingers are crossed that the team will be able to continue this tradition this year (only if it's safe and with tons of precaution)!
Not only does the retreat allow us to brainstorm goals and new organizational projects together, but it also gives us the chance to bond as colleagues, particularly with people in the company that we may not normally interact with. It's the perfect summer getaway with bonfires (um hello, s'mores!), canoeing, sports, and team-building exercises. We know what you're thinking – a summer camp for adults? We think it plays an essential role in building our amazing, vibrant, and inclusive culture.
And that's our seventh year, wrapped!
As we grow, we're cooking up even bigger ideas, chasing higher accolades, and striving to be the absolute best solution for external data discovery, governance, and delivery. It's such an incredible time to be part of this company. See you for our eighth!


---

Do you want to help ThinkData Works revolutionize how people use data?
Want to have fun with some of the coolest nerds around? Check our current career openings and see where you fit in (or simply reach out to us via LinkedIn or Twitter, we'd love to hear from you!)