Data is everywhere.
As the amount of data being released continues to become more accessible, more and more organizations are racing to adopt a data-driven approach. We've made it our mission at ThinkData Works to solve for data variety in order to fuel unbiased, ethical predictive solutions for the enterprise.
While our solutions neutralize data variety, it's our wide 'people variety' that created those solutions. Our team is comprised of thinkers, doers, coders, climbers, rockers, and talkers from all kinds of backgrounds and nationalities. Speaking a combined 20 languages, we're a team with a broad range of experiences, education, and skills. We understand the importance of diversity in our team – it has brought us where we are today.
Across the tech sector, organizations (including ours) face challenges in attracting female candidates. Just as important as unbiased data is in building data-driven solutions, gender diversity on tech teams is critical to ensuring that solutions are built for a diverse user base and engineered to solve a diverse set of challenges.
To understand the importance of taking action towards gender diversity in tech, let's take a closer look at Amazon's AI-based recruitment software. Before we dive in, below is a graph that provides context on the representation of the sexes in technical vs. non technical roles within the tech industry.
As highlighted through the above graph, the tech industry hasn't been able to close the gap, most evident in technical roles. Amazon's recruitment engine followed the same pattern that was reflected in society, and began to penalize resumes that included the word "women." Based on the lack of gender diversity, Amazon's AI system leaned into these gender biases and ultimately generated discriminatory hiring preferences.
Lack of gender diversity in tech not only affects the solutions created but as well limits the pool of talent that is available for recruitment. Our partner, Hackergal, is a charitable organization that inspires girls across Canada to explore the opportunities in code. With women vastly underrepresented in the tech industry, Hackergal strives to inspire a new wave of Canadian female coders to bring equality to the booming industry, and they've introduced coding to over 18,000 girls since the organization was founded in late 2015. Most recently, Hackergal hosted their 5th annual nationwide hackathon: from across Canada, over 4,500 girls in grades 6 through 9 connected digitally to participate in this year's hackathon coding programs around the theme of Leaders in Her-story.
"It's important for us to champion girls at a young age and support them through their coding journey – so they can see themselves as future leaders and change-makers of the community and the world."
Lucy Ho, Founder & Executive Director, Hackergal
This year, the girls were tasked to consider the qualities of 'everyday heroes' and to create a gamified experience to tell their stories. Hackergal is ensuring that there is a digital knowledge transfer between pupils from a variety of educational centres, regardless of available resources. They also provide educators with the tools they need to expose girls to coding lessons in their own schools. Hackergal wants to make sure that girls don't get left behind in the booming tech industry.


---

While amazing programs like Hackergal work on developing tech inclusion from an early age, the tech gap is a problem at all stages of life. Many women take an extended period of absence from their industry due to any number of life events, and eventually they want to re-launch their professional careers.
"Taking a career break doesn't mean that your potential disappears. We have experience, strong work ethic, and a proven desire to continuously learn."
Anamica Kartik, Test Automation Engineer (former Returnship candidate)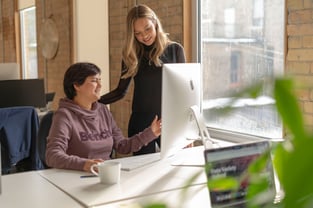 Technology is a fast-paced industry, and the landscape changes almost every day, which can feel like a large obstacle to surmount when returning to the workforce. Here at ThinkData Works, our CEO and Co-founder, Bryan Smith, introduced the Returnship program, designed to help women who have taken an extended period of absence from the industry re-launch their professional careers. It provides fixed-term employment and versatile working conditions, helping women fully customize their return to a rewarding career in tech. The Returnship program is a way to attract skilled and experienced women to the startup world while addressing the significant gender gap in tech.
The program is an opportunity to attract skilled talent, and we've seen tremendous returns – but one company is not enough. It's so important that steps toward equal representation in the workforce are taken, and our results are proof that when everybody gets a fair chance, everybody wins.

Data variety is often a problem because there's so much of it; people variety is something there's not enough of. There are challenges at every stage, from early years to senior roles, but if the tech community at large takes steps to improve the balance, the potential for growth and development in our companies, and by extension our society, is immense.
Companies are waking up – Goldman Sachs made a big splash recently, insisting that any firms they take on must have at least one board member of a diverse background, and are aiming to increase that minimum for 2021. Will more initiatives like this help to balance the scales? For everybody's sake, we hope so.


---

Do you want to help ThinkData Works revolutionize how people use data? Want to have fun with some of the coolest nerds around? Check our current career openings and see where you fit in (or simply reach out to us via LinkedIn or Instagram, we'd love to hear from you!)