As leaders in data technology, every aspect of what we do is driven by data – Engineering, Marketing, Sales, and Design decisions all need to be supported by numbers and evidence.
User research data is important insight that shapes our entire company and the way that we design our platform. By leveraging user data, we can better understand the needs, behaviours, and context of our audience to yield tailored solutions to complement user workflows.
We have built and designed the ultimate data workbench for data professionals. Namara, our end-to-end data management solution, streams data from any source in the world – public, private, or partner – to help organizations layer new data into existing practices to drive better business insights.
As a team, we're looking at data on how people use our platform to make usability and data science workflows our priorities. At a high-level, our (not-so linear) design process looks like this:
The Fundamental Questions
In order for us to improve our products, we first ask the 5 Ws (and the one H) to empathize and understand our end users:
After collecting actionable insights, we put on our thinking caps and strategize design paradigms with business and data community needs in mind. Once we've carved out these ideas, we hit the drawing board with a series of designs to review so that we can align across disciplinary teams. Through a series of testing and validation of concepts, we then continuously iterate at different stages of the design cycle to refine our design solutions.
Confirmation through Triangulation
Over the past few years, we've received valuable feedback and requests from our users, and we've been able to isolate the key requirements in their workflow as a result. With remote usability tests being a tremendous help during social distancing, we have learned so much from our users both near and far. To demonstrate how we align user feedback and observational research, we use a triangulation method to guide feature improvements.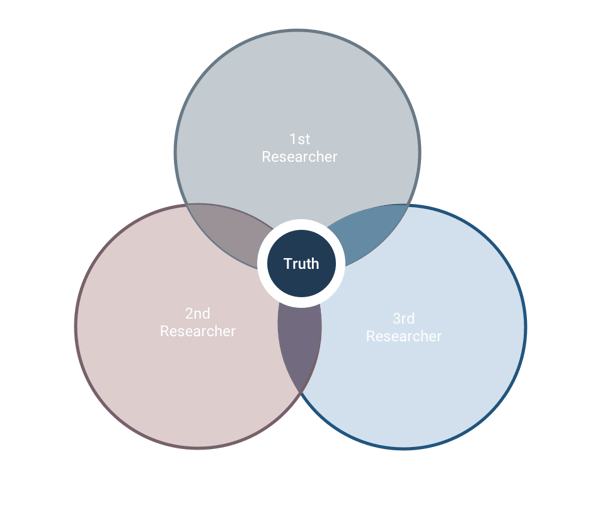 Triangulation is the process of combining several observational notes to align diverse perspectives; our de facto UX detectives come from our Data, Front-end, Client Success, and Sales & Marketing teams.
By collecting diverse scopes of platform usability from our customers and end users, it helps shed light on specific areas of our platform's user experience so that those areas can be improved. Aligning feedback allows us to see the commonalities of each result at points of convergence to get a better picture of the truth behind our platform usability. This helps us prioritize what features our users' need, and how we can go about design implementation.
Data Making Data Better
A long time ago in a galaxy far, far away, Yoda once said, "Always in motion is the future," and that saying can't be more relatable in today's rapidly-changing digital world. With an estimated 2.5 quintillion bytes of data being generated each day, we understand the value behind data to inform future opportunities and optimization across industries. We strive to make data easier to work with by reducing workflow overhead and building confidence for businesses using the Namara platform.
Help Us Help You
When Princess Leia's ship is taken over by Darth Vader she says "Help me, Obi-Wan Kenobi. You're my only hope." Although our platform is not being taken over by any dark forces, we need your help to design a platform that continues to put our users first.
If you are currently a Namara user, and have 2-3 minutes to spare, we would love to hear from you. We've attached a survey link for you to share your feedback: Namara User Survey. Your thoughts are greatly appreciated and we want every platform user to have a contribution towards improving the platform.
If you are a data scientist but not a Namara user, we would still love to gather insights about your workflow and needs with this General Data Professional Survey.
Finally, if you'd like to volunteer to take part in future usability tests or have any questions about the survey, please contact us.


---

Want to learn more about aligning your business and data strategy?
Request a consultation with one of our data experts or browse the largest catalog of solution ready data to determine how ThinkData's tech can advance your projects.