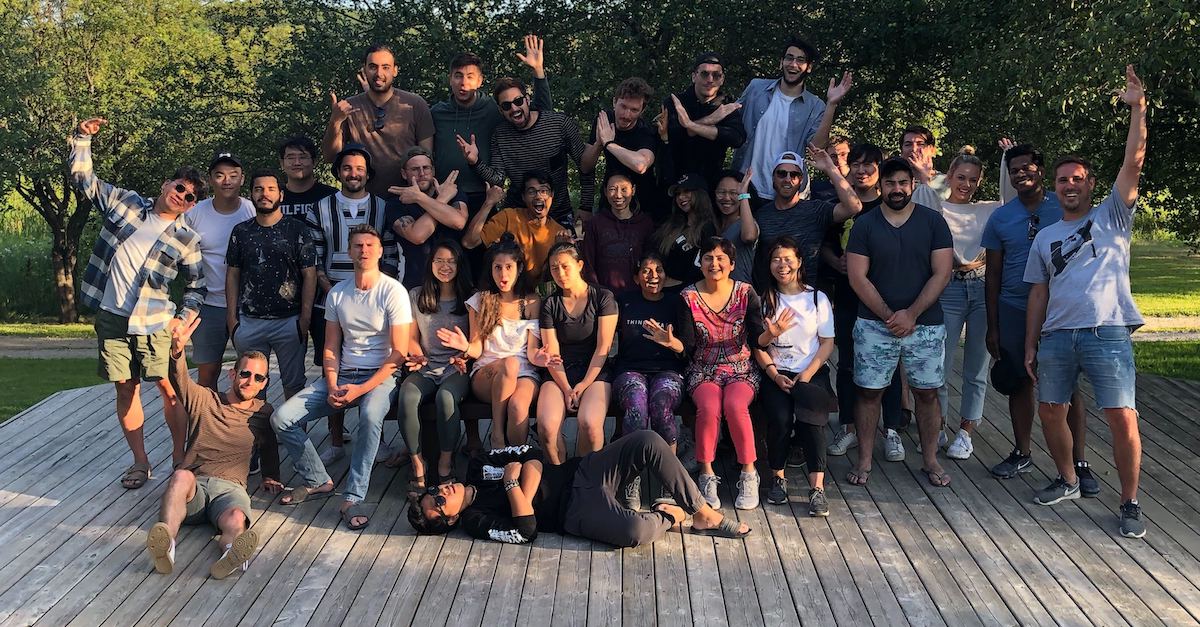 With Toronto being a world-leading market for tech companies and talent, startups are as closely tied to this city as the CN Tower. There are a few different ideas that come to mind when we hear the word "startup" – sometimes, we picture millennials working at standing desks in a factory-turned-office, petting a dog, getting ready to play pool in the lounge, eating snacks and playing video games; other times we picture a closet-turned-office, where 10 developers work 80 hours per week and barely scrape by, with somebody at the helm who's never managed a team before.
So, which one are we?
Even though the first scenario seems like a caricature of startups, we do tick all of those boxes. Working here, though, is so much more than that. Let's take a deeper look into what it's really like at ThinkData Works.
9:00 am: On a typical day, you come into the office and get your day started by preparing your breakfast or brewing some coffee. Our Growth Manager starts off every morning with his trademark breakfast sandwich – learning how to make one might as well be part of our on-boarding.
9:20 am: Fed and/or caffeinated, you open your laptop, and you're ready to start your day. As you do, you smile at your co-workers coming in a little later, since they put in a few extra hours the night before. After a good period of focused work, you find yourself in the kitchen sharing a laugh and a healthy snack with someone from the Sales team – based on their ability to hold a conversation about anything and everything, you totally understand their career choice. You sit back down at your desk as ten developers are coming back from their coffee run. The walk is just two minutes, but you know they're coming back with a story from the trip – it's downtown Toronto, after all.
12:00pm: As lunch hour nears, the #lunch-train message channel comes alive with messages of co-workers headed to our favourite shawarma spot and others looking to dive into a bowl of pho – being located right near Queen West, it's hard to make a lunchtime meal decision. You return and find people from every team eating lunch in the kitchen and lounge area, so you pull up a chair.
You fill your afternoon with meetings and other work. If this were a Monday, you might join our meditation group. You could have also scheduled a check-in with HR that day and will have 20 minutes to talk about anything, inside or outside the office, whatever you need. Or maybe it's a Tuesday at 5:00 and you're gearing up for weekly yoga in the office. Or maybe it's a Thursday and you join the team playing pool and video games, having a (not-necessarily-alcoholic) drink and joking around.
But it's not all fun and games
The saying goes, "work hard, play hard" – work hard always comes first, and that's a strict rule at ThinkData. We earn our perks! As an employee here, you are surrounded by the brightest thinkers, doers, coders, and everything in between. These are also people who want to grow together, lift each other up, and celebrate victories and accomplishments as a team. It's a fast-paced environment, with constant changes and quick results. The key is to adapt and push forward. We're not a big, bloated legacy company, but we're not some over-funded, product-absent VC darling either. We put in the work, we take ownership over client deliveries, and we love every minute of it.


"Having the opportunity to work with the bright, vibrant group of driven individuals at ThinkData has been an invaluable experience. We work hard, but we also have a lot of fun together! "

– Andrew Armour, Account Executive


Like every successful startup, we find passionate and motivated people to join our team, individuals who don't shy away from a challenge; but this doesn't mean you're working 70 hours a week. We know the value of a healthy work/life balance, and that people driven to the point of total exhaustion don't often produce reliable and high-quality work.


"As part of a smaller company, it's exciting to be able to work on new features from the ground up ... there's a lot of joy when I get to work on something and see that it's useful to our clients."

– Thendup Tsering, Developer
This is not the place to keep quiet and leave your ideas in the dark. We strongly believe that ideas can come from anywhere and anyone. As a service provider, we are experts in data variety, and as a company, we take pride in our people variety. We have created industry-best technology that we couldn't have built without our diverse team and their unique skill sets and personalities. Creativity and problem-solving are what we excel at. Not every solution we think of is perfect, or even totally on target, but even these ideas are valuable as learning opportunities and ways of clarifying what we need and want through learning what we can't or shouldn't.
In summary
Our environment is totally unique: the perks of startup life coupled with the magnitude of enterprise products. The job comes with unique challenges, the freedom to experiment, and the chance to make a big impact. If you have a craving for constant learning and growth and want to be at the forefront of innovation, apply to become part of the team today. Who knows? You just might like it.


---

Do you want to help ThinkData Works revolutionize how people use data? Want to have fun with some of the coolest nerds around? Check our current career openings and see where you fit in (or simply reach out to us via LinkedIn or Instagram, we'd love to hear from you!)