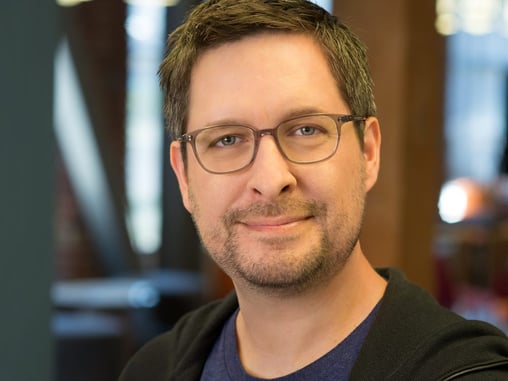 A few different images come to mind when people hear the word 'startup."
Some people imagine a handful of devs putting in 70-hour work weeks in a broom closet; others see chic offices full of hipsters playing table tennis, their dogs fetching errant balls.

We thought we'd give you our own employees' take on what it's really like working for a startup.
The startup world provides an environment that's rare in the corporate world - unique challenges and the freedom to experiment.
Mehrsa
"Before ThinkData Works I was working in a large Canadian bank," says Mehrsa Golestaneh, who is now heading up ThinkData's data science division.
"I wanted a more fast-paced growth. As part of a smaller company, I have the opportunity to work on innovating the solutions as well as presenting them to clients who want them 'right now.'"
"You don't feel like a tiny part of very big machine here. You can the see the effects and work in a more collaborative environment. What you do matters."
- Mehrsa Golestaneh
Data Scientist
Mehrsa designs truly amazing solutions using the most advanced machine learning tools, but on top of that, the culture here really complements her personality.
"We do one-on-ones outside of our usual team which means getting to spend time speaking with someone you don't work with normally."
---
Thendup
A pivotal member of our front-end development team, Thendup Tsering felt right at home from the start.
"Out of school, I got offers from ThinkData Works and from Blackberry. I chose ThinkData Works because I wanted to try out the startup life," he said.
After a successful co-op term, Thendup was offered a full-time contract and jumped at the opportunity.
"I felt valued for the work I did, the contribution I made."
"As part of a smaller company, it's exciting to be able to work on new features from ground up ... there's a lot of joy when I get to work on something and see that it's useful for our clients."
- Thendup Tsering
Front-end Developer
Thendup also recognizes that life in a startup means getting to experiment with bleeding-edge technology, something most large companies simply can't do, and that means we're able to grow with our clients' needs instead of playing catch-up.
"The work we do here is leading-edge in this field."
---
Marissa
Marissa Liu had just finished her first year of university when she joined us for a summer co-op.
"I didn't come in with the same experience and knowledge as the developers," she said, but that didn't stop her from jumping in head-first. Eager to learn, she was coding from day one.
Working on a lean team means you might have to wear a few hats, and we don't shy away from that; Marissa was excited to get a breadth of experience.
"I can honestly say that I've learned more in three weeks here than an entire semester at school."
"I spent a lot of time meeting new members and everyone was super welcoming and friendly. The learning curve has been exactly what I was looking for. I'm rotating through different teams, having spent time with the software development team and the data science team already."
- Marissa Liu
Developer Co-op
ThinkData organizes as many fun social events as possible. It's easy for us to hang out, welcome a new staff member, play games, watch Futurama, or whatever it is we've got planned that night.
---
Toronto's tech scene is booming and it doesn't show signs of stopping. In fact, VP of Product at Shopify, Satish Kanwar, says that "Startup Open House is one of the most important annual startup events in Canada … By opening doors for anyone to learn about startups in Canada, this event is also simply a celebration of the diversity and richness of our ecosystem."
ThinkData is an open data startup that allows developers, businesses, and citizens to access high value data in standard useable formats.
If you are interested in working a startup filled with innovators and intelligent-thinkers, reach out to us for more information.